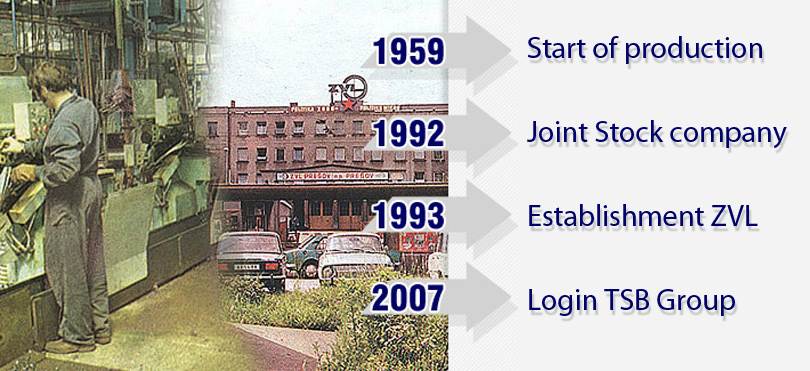 History
Production of tapered roller bearings has in subject ZVL in Presov more than 55 years long tradition. The production has been running since 19th of December 1959, when production of bearings started after its delimitation from plant ZKL Brno – Lisen in Czechoslovakia.
Company ZVL (= Plant for Bearings Production) in Presov since its start went through different organistional forms:

1959-1965: affiliate plant of national plant ZKL Brno - Lisen
1965-1979: national plant of trust VHJ ZVL (seat of VHJ in Povazska Bystrica)
1980-1988: concern plant under the general headquarters of koncern ZVL
1988-1990: inner organisational unit of state plant ZVL Povazska Bystrica
1990-1992: independent state company
1992-1993: joint stock company ZVL BEARINGS Presov, created in first wave of voucher privatisation.
From this joint stock company had been excluded by foundation charter on April 13th 1993 independent organisation ZVL AUTO spol. s r.o. Its inner transformation process culminated by investment of Italian shareholder ZVL ITALIA S.p.A., by January 1st 1998 and became on April 11th 2000 its owner. Registered capital of company is at present time 12.387.606€. On January 1st 2006 part of employees and production had been sent to company ZVL TS, s.r.o. Presov. By finishing transformation process ZVL AUTO is an important stabilised subject of region.
By end of year 2007 into company ZVL AUTO enters shareholder TSB Bearings Group Co., Ltd. and became shareholder of 55% share on registered capital of company ZVL AUTO.